About Us
24/7 CRISIS COUNSELLING: 1-877-498-6898
Welcome to our website!

If you are an Alberta lawyer, articling student, law student or dependent family member, we have resources and programs to help you. If life gets overwhelming, or if you just don't feel like yourself, we are here for you.
We also provide education and awareness to Alberta legal professionals through a resource collection and presentations on lawyer well-being. We provide safe environments for Alberta lawyers and students to overcome loneliness and isolation and to learn about mental health issues, addictions and lawyer happiness, and we build supportive communities for lawyers centered life or career stages.
If you are not an Alberta lawyer, articling student, law student or family member, we hope that you will find the information on our website helpful.
Alberta Lawyers' Assistance Society

We help Alberta lawyers, articling students, law students and their dependent families, based on these cornerstone principles:
CONFIDENTIAL
COUNSELLING
COMMUNITY
CONNECTION
COUNTERING STIGMA
COMPASSIONATE
COMMITTED TO SUPPORTING YOU WITH DIGNITY AND HOPE
Mission: Enhancing the immediate and long-term well-being of Alberta lawyers, articling and law students, and their dependent families through confidential and non-judgmental psychological assistance, peer support, education and community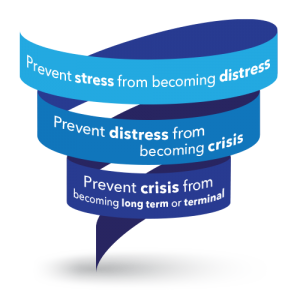 Vision: Preventing stress from becoming distress, preventing distress from becoming crisis and preventing crisis from becoming terminal or long-term debilitation
We fulfill our Mission and Vision by providing free and confidential professional counselling, peer support, education and awareness, and community-building activities.
Why We Are Here
Lawyers and students, both law students and articling students, are high achieving individuals who are not immune from the struggles that other members of our society encounter. Research shows that, when compared to the general population and other similarly-educated professionals, lawyers experience mental health challenges and addiction issues at much higher rates (more than three times the rate of the general population for mental health challenges and double the rate of the general population for substance use issues.)
Law is a stressful profession. It frequently involves conflict or competing interests which can take a toll on lawyer well-being. Lawyers often present an image of invincibility. Lawyers who interact with clients undergoing trauma may themselves experience secondary trauma, or compassion fatigue. Lawyers are expected to be both "big picture" thinkers and attentive to tiny details, held to standards of near-perfection.
Regardless of area of law and type of client, law practice has intensive demands both in terms of time and energy. Because lawyers focus on clients' interests, they may frequently overlook the signs when they themselves need assistance.
We offer free and confidential assistance to counteract the idea that lawyers should "tough it out alone" which can prevent negative personal or professional consequences and help build the resiliency needed both to thrive in a stressful profession and to enjoy quality of life.