Professional Counselling Services
Assist provides professional counselling services to Alberta lawyers, articling students, law students and dependent members of their families.

Free: Every lawyer, student (articling student and law student) and dependent family member are entitled to 4 professional counselling sessions per person per issue per year, free of charge.

Professional: Counselling is provided by registered psychologists or clinical social workers, both of which are regulated professions with codes of conduct and rules regarding confidentiality. Registered psychologists and registered social workers have Masters' degrees or Ph.Ds.

Most professionals who provide counselling through our program are psychologists; however, we access registered clinical social workers where appropriate. Our counsellors have an average of 10 years of experience in a variety of practice settings.

Confidentiality: Registered psychologists and clinical social workers are governed by codes of conduct that outline their confidentiality obligations to clients. Like lawyers' codes of conduct, confidentiality is mandated in all but very limited circumstances. Your counsellor can explain this to you at your first appointment.

Crisis Counselling: Crisis counselling is available 24/7 via telephone. Please call 1-877-498-6898.

How many people access counselling through Assist each year?

In 2019, we had over 1000 individual professional counselling cases, up 27% over 2018.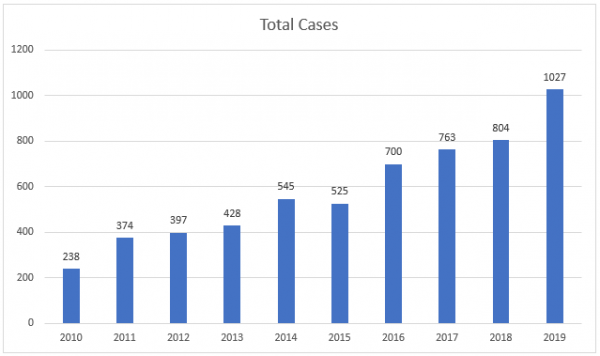 See our Annual Report for more information.

Who are the counsellors Assist uses?
Forbes Psychological Services has been Assist's third-party professional counselling services since 2008 and, as of October 31, 2019, has provided services to more than 21% of the legal profession in Alberta.

Forbes is an Alberta-based, independent provider based in Edmonton with a network of psychologists through Alberta and in major centres across Canada, and operates employee assistance programs and member assistance programs.
All in-person counselling appointments are at the counsellor's office.
Why is it four sessions per issue?
Our program is short-term counselling, a model that is based on the evaluation of the issue, provision of immediate help and strategies and a referral to long-term assistance if needed.

Many issues are addressed in fewer than four hours. The average number of hours per case for 2019 was just under two hours.

Crisis counselling is outside of the four-sessions cap.

Why you may want to access counselling services
People seek counselling for a variety of reasons. You do not have to be in distress or crisis to meet with a counsellor, and seeing a psychologist in the role of counsellor does not mean that you have a mental health problem. It can mean that you think you would benefit from probing an issue that is concerning you with a trained professional who can help break the issue into manageable pieces and provide support to you.

We encourage everyone to think about their mental health proactively. Most issues are more easily resolved the earlier they are addressed, so if you are thinking about counselling, just call us to find out more, and if you are just not feeling like yourself, please book an appointment by calling 1-877-498-6898.

Types of Issues
We provide counselling on a range of well-being issues. You don't have to fit into a particular diagnosis or pigeonhole to access counselling.

Here are some of the common issues that we see people about:
All psychological issues
Anger Management
Anxiety
Child Behavior Problems
Communication
Critical Incident Stress Debriefing – individual
Depression
Grief and Separation
Marital/Relationship Issues
Parenting Issues
Physical Health Concerns
Retirement Adjustment
Separation, Divorce and Custody
Sexual Abuse
Stress
Substance Use
Work Related Group Conflicts
But the best test for whether you want to access counselling is to rely on your own sense of self. If you just don't feel like yourself, call and arrange to see a counsellor.

What family members are included?
Members of your immediate family who are under age 25 and financially dependent on you and/or your spouse are covered.

Psychologist in Residence
An Assist psychologist provides onsite counselling sessions at both the University of Alberta and the University of Calgary law schools twice per month during the academic year. These appointments get taken quickly, so please remember that you can see Assist's psychologists at their offices as part of our program and that evening appointments are available.

All appointments are booked by calling 1-877-498-6898.

Please provide at least 24 hours' notice of cancellation.