Peer Support
Peer Support Mission Statement
Assist's peer support programs provide support to Alberta lawyers, articling students and law students to address personal and professional issues in a safe and confidential environment.
Peer support occurs when someone shares their knowledge and experience, whether practical, emotional or social, to help another person. Assist's matched peer support program can be accessed independently or in conjunction with professional counselling services.

Assist's peer support programs connect a lawyer, articling student, or law student experiencing stress or distress to talk to a lawyer trained in peer support about their challenges.
They also provide volunteers with an opportunity to share their knowledge, experience, practical, emotional or social help to another lawyer, articling student or law student.
Matched Peer Support Program
Assist arose out of lawyer 12-step communities who were providing confidential peer support to Alberta lawyers in recovery and their families. See Our Story.
Peer support is intervention-based and is allied with Assist's vision: prevent stress from becoming distress, prevent distress from becoming crisis and prevent crisis from becoming terminal or long-term.
We encourage lawyers, articling students and law students to seek help early, and our volunteers are trained to provide support and resources, including referrals to professional counselling services.
Confidentiality
Assist's volunteers agree to hold in confidence all information that comes to their attention in the course of their volunteer service, to respect the privacy of the people they meet and serve and to uphold Assist's Guiding Principles for the Matched Peer Support Program.
All peer support volunteers (except law students who may be trained to provide peer support to other law students) are members of the Law Society of Alberta and are bound by the Code of Conduct. The Commentary to Rule 7-1.3 expressly recognizes that Alberta lawyers who are volunteering as peer support volunteers may learn information about a lawyer that they would otherwise be required to report to the Law Society. Click here for
information about confidentiality.
The Commentary reads:
The Law Society supports the Assist Program in Alberta and similar agencies in their commitment to the provision of counselling on a confidential basis. Therefore, a lawyer who is making a bona fide effort to have another lawyer seek help for such problems is not required to report to the Society non-criminal conduct of that lawyer that would otherwise have to be reported under the rule. However, the lawyer must advise the Society if there are reasonable grounds to believe that the other lawyer is encouraging or will engage in conduct that is criminal or is likely to harm any person or of any other conduct under the rule if the lawyer refuses or fails to seek help.

Peer support volunteers are encouraged to contact the Law Society's Practice Advisors (1-866-440-4640 Local: 587-390-8462) for confidential advice if they are concerned about whether a duty to report has been triggered.
If you would like peer support, please call 1-877-737-5508 or email program-manager@lawyersassist.ca
What types of issues can Peer Support cover?
We track program usage using broad categories of issues, but there is no limit on the types of issues that a lawyer or student could present with.

The categories of issues that we track are:
Work-related Issues
Depression/Anxiety/Burnout
Articling/Law School Issues
Substance Use
Work-life Balance
Trauma
Relationship/Family
Financial Problems
Medical Issues
Law Society Discipline
Foreign-Trained Lawyer Experiences
Occasionally, we receive requests for peer support about issues that are unusual or that occur in a particular context. While we have more than 130 active peer support volunteers, we may not be able to match a caller with a volunteer who has been through the same or even a similar situation. We then aim to match the caller with a peer support volunteer who may have insight into the issue as a result of issues the volunteer has experienced.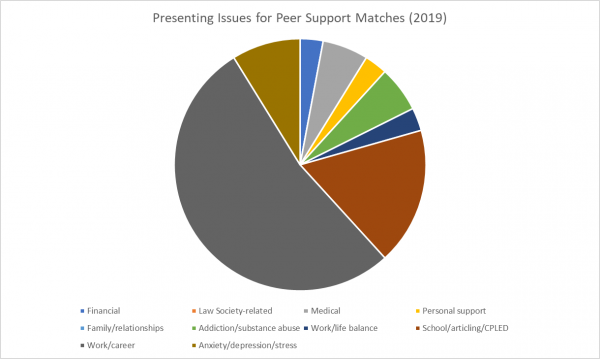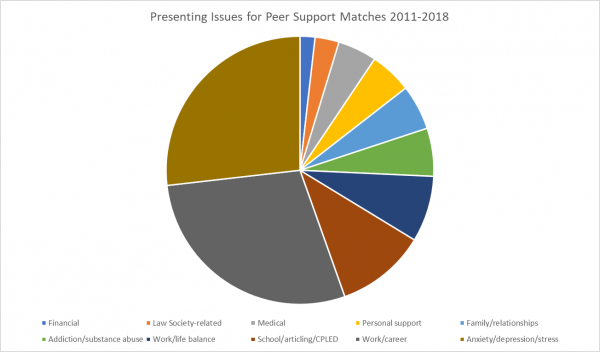 What is the role of a peer support volunteer?
A peer volunteer is not a therapist, counsellor, or a doctor. They do not take the place of a professional. They provide support, encouragement, hope and referral to appropriate sources where possible. The relationship is confidential except to the extent that Assist matches a person seeking peer support with a peer volunteer.

The primary requirements of a peer volunteer are: willingness to accept training; listening and communication skills; and knowledge of available resources. These peer volunteers must understand confidentiality and boundary issues, have a desire to help individuals based on personal experience, have the ability to be empathetic and non-judgmental and not be in crisis at the present time.

Who can receive peer support?
Originally, the program was only available to lawyers and articling students; however, we now provide peer support to law students using lawyer volunteers and occasionally trained law student volunteers.

Is peer support voluntary?
Yes. Peer support is a voluntary program where an individual who would like to access peer support contacts Assist and Assist matches the individual with a peer volunteer.

Do I have to be in crisis to request peer support?
No. You can access peer support if you are confronting an issue and think that you would benefit from discussing it with someone with experience or insight into that issue.

Do I have to be accessing professional help to receive peer support?
No. However, peer support volunteers are trained to make referrals and if a peer support volunteer believes that the lawyer should pursue professional counselling, the volunteer can provide information about Assist's professional counselling services. The peer support volunteer can contact Assist's Executive Director or Dr. Forbes for assistance with this conversation.

How do we match the individual in need and the peer support volunteer?
Assist's intake procedures involve gathering basic information about the caller, such as first name, gender, number of years in practice, geographic region of residence and practice areas, as well as the issue in question. We ask callers if they are more comfortable with a volunteer of a particular gender.

We first review volunteers by experience with or insight into the experience, and then try to find as many points of contact as possible to enhance the relationship.

How does confidentiality work?
Assist keeps very limited records about callers and keeps all records secure. Once we identify a potential match with a peer support volunteer, we call that volunteer to see if they are available and willing to provide peer support on the issue in question. No information about the identity of the lawyer is provided. This allows the peer support volunteer to decline if they are not able to provide support with respect to the issue in question, or are unavailable for any reason.

If the peer support volunteer agrees to provide peer support, we then contact the caller to advise that we have a potential match. We provide the caller is with the peer support volunteer's name and ask if there is any reason that this person is not acceptable (e.g., personal relationship, conflicts). If the caller accepts the peer support volunteer, we then provide the peer support volunteer's contact information. It is then up to the caller to make contact with the volunteer, and until that happens, no personal information about the caller has been provided to the volunteer. Click here for information about confidentiality.

How many Peer Support Matches Have We Made?
We have made more than 300 matches! The formal peer support program was initiated in 2010 and the program started out small but has grown as the legal community learned more about the program and its confidentiality. Over the last four years, we have averaged 25-30 matches per year.

We have capacity to make more matches as we have more than 130 trained peer support volunteers, but often we need volunteers with experience in a narrow issue so we are always happy to train more volunteers.

What can you expect as a participant?
If you contact Assist seeking matched peer support, you will be matched with a trained peer support volunteer who has shared a similar experience or who can relate to you. Your peer support volunteer will be available to talk, share resources and attend support meetings with you. Peer support can occur using technology as well as in-person.

You can shape the peer support relationship based on your needs, while maintaining respect for personal boundaries (there is no minimum or maximum number of interactions). You can expect a relationship of trust and confidentiality with someone who can relate with what you are going through.

Assist's group and informal peer support programs are designed for young lawyers, articling students and law students encountering workplace and professional issues who would benefit from having a confidential conversation with a senior lawyer trained in peer support. Click here to learn more about our programs.

What can you expect as a Peer Support Volunteer?
As a peer support volunteer, you can expect an opportunity to help fellow lawyers who are in need of emotional, personal or career-related support. You will be trained to outline your responsibilities and develop your skills as a volunteer. You will get a chance to offer support and encouragement, and where appropriate may be able to refer your colleague to appropriate resources.

You have the ability to accept or decline matches depending on your comfort level and previous experiences, as well as your availability and own well-being. You will be part of a network of support through the peer support program and Assist's professional psychological services, and you can obtain support from Assist's Executive Director or Program Coordinator, or psychological services provider.

Assist is grateful to the many lawyers who have volunteered and been trained as peer support volunteers. We are fortunate to have many more trained volunteers than participants at any given time, so the time commitment—if you are matched and called—should not be onerous.

What do I need to be a Peer Support Volunteer?
You will need:
To fill out a Peer Support Application
A desire to help other lawyers based on your personal experience and strength
The ability to be non-judgmental and to listen empathically
Good listening and communication skills
Understanding of confidentiality, ethics and boundary issues
Willingness to participate in initial and refresher training sessions
Not be in crisis currently
Informal Peer Support Programs
Matched Peer Support is a best-practices program that involves a conversation (usually by telephone or online meeting) with the caller and then matching with a volunteer based on commonality of experience.

The Law Society of Alberta released its Articling Student Survey results in the fall of 2019. The results indicated that one-third of articling students self-reported experiencing discrimination or harassment during their articling year or the recruitment process.

Assist's Board of Directors wanted to ensure that students and junior lawyers who are experiencing career-related distress have easy access to a senior lawyer, recognizing that placing a telephone call to the Assist during business hours could be a barrier.

Pop Up Peer Support—Red Mug Coffee Circles
In response, we designed a Pop Up Peer Support sessions where a senior lawyer would be available for one-on consultations for articling students and junior lawyers. Two Edmonton volunteers decided to use red coffee mugs so that they could be identified, and the name Red Mug Coffee Circles was borne.

We promote Red Mug Coffee Circles through our social media and email communication lists, announcing the date, time and place of the session along with a photo of the volunteer. Students and junior lawyers can sit down with the volunteer (who will buy them a coffee or other beverage) while they chat about the situation the student or junior lawyer is facing.

During the COVID 19 pandemic, Red Mug Coffee Circles moved online. Red Mug Coffee Circles are designed to be flexible and can be set up with minimal administration and lead time. Assist believes that articling students, a vulnerable population, are aware of Assist's professional counselling program. Approximately 14% of Assist's individual professional counselling cases in 2019 were articling students, while articling students represent roughly 5% of our actively practicing constituency.

However, we want to ensure that articling students and junior lawyers are aware that they can access Peer Support in responsive ways. We will continue to look for ways of responding quickly to articling students and junior lawyers who are in difficult situations.
Articling Student Direct Outreach
Assist will be doing telephone outreach to all articling students in Alberta beginning in the fall of 2020. A trained Peer Support volunteer will contact each student to ask how they are doing at designated check-in times.We know that asking for help is hard. And it can be difficult for articling students to make personal calls—especially requesting assistance—during the business day. A student who would like to meet with the Peer Support volunteer can arrange to meet at a convenient time to discuss issues the student is experiencing.

To learn more about when informal peer support events are happening, subscribe to our newsletter by emailing program-manager@lawyersassist.ca or following us on social media.