Education and Awareness
Education and Awareness Activities are core Assist programs because lawyers, articling students and law students need to be aware of and understand the mental health and substance use issues to which they may be exposed: forewarned is forearmed.

One of our charitable objectives, approved by the CRA, is to
Reduce the incidence of addiction, mental illness and emotional distress among members of the legal profession in Alberta through preventative education and the provision of coping and professional counselling assistance.

It is also part of our Mission Statement:
Enhancing the immediate and long-term well-being of Alberta lawyers, articling and law students, and their dependent families through confidential and non-judgmental psychological assistance, peer support, education and community

Education and awareness activities support our vision.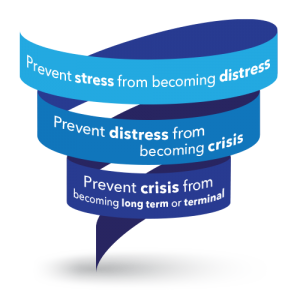 While we can intervene at different points of the stress-distress-crisis cycle, the earlier the intervention, the more easily an issue can be resolved. Educating the legal profession about issues and making them aware of our services can help people to seek help early.

Assist has two signature Education and Awareness events.
Walks for Wellness
Walks for Wellness are held in communities across the province to raise awareness about Assist and lawyer mental health. Walks have been held in:
Edmonton
Calgary
Medicine Hat
Lethbridge
Red Deer
Fort McMurray
Grande Prairie (postponed due to poor weather)
If you would like to hold a walk in your community, email us at program-manager@lawyersassist.ca. We can provide communications and organizational support to help you make your walk happen!
In 2022, we are able to gather together again and are pleased to be holding walks at noon as follows:
September 15: Edmonton and Calgary
September 22: Grande Prairie and Medicine Hat

To learn more about our Walks for Wellness, click here
Hand to Hand Events
Assist has held three Hand to Hand events. In 2014, our Hand to Hand event featured Senator Romeo Dallaire and our 2016 event speaker was Clara Hughes.

On November 26, 2019, Assist held its 3rd Hand to Hand event in the beautiful 54th floor Sky Garden of Calgary's iconic Bow Building.

SEE IMAGES OF THE EVENT

Nearly 200 lawyers, members of the judiciary, and honoured dignitaries attended to hear former Supreme Court Justice Clément Gascon, Alberta Court of Queen's Bench Justice Michele Hollins, and retired provincial court Judge Bob Philp, QC discuss mental health and well-being in the legal profession.

Justice Gascon spoke about the significance, challenge and opportunity that mental health and wellness represent and how important patience, empathy, and trust are in addressing them.

The panel shared candid and heartfelt reflections on their own experiences with well-being, their lessons learned, their hopes for the future, and their advice for building a safer and healthier profession for all. Loretta Bouwmeester, our event chair, moderated the panel discussion and texted Q and A session designed to allow guests to ask questions without drawing attention to themselves.

The evening also featured a meaningful collaboration with the Canadian Bar Association's Young Lawyers "Law Needs Wellness Because…" photo campaign, which highlighted the national groundswell of important dialogue, initiatives, and awareness surrounding the business and social cases for furthering well-being amongst lawyers and the judiciary.

"I am very happy with the progress that the legal community is making on identifying and addressing resilience and wellbeing for the sake of lawyers, their clients, families and communities. Justice Gascon's address was an important further step in both humanizing and destigmatizing these issues." Loraine Champion, Assist's Executive Director

The support and participation by members of our profession have given this issue a greater voice, and raised more than $17,000 dollars to continue Assist's critical work in helping members work through obstacles productively. Assist thanks the legal community for its willingness to promote the conversation around mental health and wellness in this profession, and looks forward to the positive impacts to flow from this year's Hand-to-Hand event.

Together, we shone a light of on the uncomfortable topic of lawyer well-being, recognized that lawyers with mental health issues can achieve professional excellence and challenged the stigmatized thinking that causes lawyers to fear seeking help.

Other Education and Awareness Activities
Assist maintains a library of educational resources in our Knowledge Hub.

We also provide speakers to law firms, legal conferences, CBA section meetings, CPLED and law schools about lawyer mental health, addiction and well-being strategies. Our goal is to find ways, over the long-term, to have a positive impact on the legal community culture, which includes partnering with other organizations to leverage education and encouragement of good mental and physical health.

Please email program-manager@lawyersassist.ca to request a speaker.

Speaking topics include:
Survive and Thrive in Law School
Introduction to Assist
Making Time for Mental Health
Workplace Wellness
The Business Case for Lawyer Well-Being
Lawyers and Mental Health
Practicing Family Law Without Going Crazy
Vicarious Trauma
Balancing Stress and Ethical Obligations
Building Resilience
Recovery Stories
A 2020 View of Lawyer Well-Being
Lawyer Well-Being: The Profile, the Process and Proactivity
Women, Law and Mental Health
Assist and Lawyer Well-Being
Assist and #Metoo
Strategic Partnerships
Assist has partnered with Legal Education Society of Alberta to provide webinar resources in response to needs of the articling student, lawyer and internationally-trained lawyer community.
Career Development Webinar Series
Many articling students and lawyers lost employment during the COVID-19 pandemic, which also caused distress to law students and internationally-trained lawyers seeking articling positions.

Assist and LESA designed a three-part webinar series on networking, what recruiters look for, and how to set up your own firm. Access recordings of these webinars by clicking here.
Navigating the Legal Workplace for Internationally-Trained Lawyers
Assist is partnering with LESA and Calgary Region Immigration Employment Council (CRIEC) to offer a webinar series to acquaint internationally-trained lawyers to Canadian law culture and communications. Participants will be provided with resources about Canadian lawyer workplaces and the webinar will focus on communications styles and strategies in Canadian workplaces.

Click here for more information.
Gloom versus Hope webinar
Assist partnered with Karmen Masson, certified executive coach, lawyer and Assist volunteer, to focus lawyers and students on finding positive thoughts and paths during the COVID-19 pandemic. This webinar was not recorded but can be offered again if there is sufficient interest,

To stay in touch about Assist's Education and Awareness Activities, please sign up for our newsletter by emailing program-manager@lawyersassist.ca or follow us on social media.